Propane Preparedness: How Paraco is Responding to COVID-19

WE ARE OPEN FOR BUSINESS
PRECAUTIONARY MEASURES PARACO IS TAKING
We are staying up to date on information distributed from the Centers for Disease Control and Prevention (CDC), Department of Homeland Security (DHS) and federal, state and local agencies.
We are communicating regularly with our employees to keep them informed and to ensure their safety and that of our customers.
We continue to deliver propane by using staggered start times for drivers, to avoid multiple employees in one spot.
Employees are fully sanitizing their hands and equipment.
We have ample support personnel in coronavirus hotspots as well as remote access for call centers and other operating areas.
We are practicing social distancing for our customers and colleagues, our area offices are temporarily closed for walk-in traffic. Please call your local office to determine where propane cylinder exchange or fill-up is available.
---
Please take a moment to read this public service message on face coverings!
We all know that wearing a face-covering in public helps prevent the spread of Covid-19, but only if it's worn properly.  To be effective, the face-covering must cover both your nose and your mouth.  Face coverings provide an extra layer to help prevent respiratory droplets from traveling in the air and onto other people.
It is critical that your face covering covers your nose and mouth and that you keep the covering on your face the entire time you're in public.  Please see below for some examples of how not to wear your face-covering!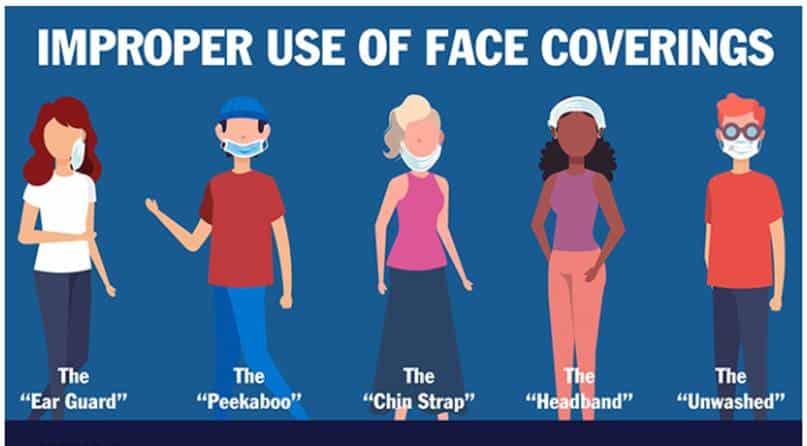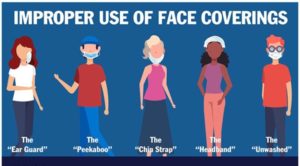 ---
BE SMART STAY 6 FEET APART
As we head into the Fall, we ask everyone to take a moment and review the Covid-19 guidelines and protocols that have been established.  We understand that it is human nature to want to connect and interact with others and that it is just as easy to become "fatigued" by the constant reporting in the media, but it is extremely important that we continue to follow the established protocols in order to protect ourselves and those around us.
If you are not feeling well, stay home!
Practice social distancing and maintain a minimum distance of six (6) feet from others in public whenever possible.
Wear a face-covering whenever social distancing is difficult to maintain (i.e., grocery stores, pharmacies, etc.).
Clean hands frequently with soap and water for at least 20 seconds.
Cover your cough and/or sneeze with a tissue, then throw the tissue in the trash and wash your hands.  If you don't have a tissue, cough and/or sneeze into the crook of your elbow.
Remember to wipe down high touch areas before and after each use!
We'd also like to take a moment to remind everyone to consider getting a flu shot this year.  Even if you have historically not received one, this year the CDC has issued a warning that "another respiratory illness [such as the flu] on top of the ongoing Covid-19 pandemic could overburden the health care system, strain testing capacity and increase the risk of catching both diseases at once".  Please review the CDC website for more information.
---
REMEMBER THE 3W'S
As we continue to communicate on COVID-related protocol, we need to stress that while "COVID fatigue" and complacency are honest responses, we MUST continue to stay vigilant because the conditions have extended into the fall during this ongoing public health crisis. It is incumbent upon all of us to do our part to keep ourselves and our families safe. 
Our strict adherence to the rules has helped Paraco minimize the number of COVID cases. Please continue to wear a face-covering whenever you are in a public setting and cannot maintain a 6-foot distance. Maintaining social distancing whenever and wherever it is necessary is critical. Continue to obey all the CDC rules and regulations posted in local businesses and public spaces. 
Remember the 3W's (Wear a mask, Watch your distance, and Wash your hands) to reduce the spread of infection.
---
FAQ BELOW: Please note that answers to some of the frequently asked questions we are receiving have been added below. We will continue to add to this list of questions as they are received from our customers.
---
CDC PROTOCOL
We are closely following CDC protocols to ensure customer and employee safety during the COVID-19 health crisis, we are practicing social distancing and no longer allowing walk-in-traffic starting March 18, 2020.
We encourage you to use our online portal, website chat feature, call our customer experience team at 800.647.4427, or mail payments to our secure lockbox at
Paraco Gas Corporation
P.O. Box 412227
Boston, MA 02241-2227
Your health and safety are our top priorities, thank you for your cooperation and allowing us to fuel your every day.
---
PROPANE SAFETY
The health and safety of the Paraco family – including our customers and employees – is always our top priority.
Your Propane Usage
As more people are taking precautionary measures against the spread of the COVID-19 each day, you might be spending more time at home – working from home, eating out less and in general, spending less time in places where crowds exist.
This may also mean an increase in your use of propane for heating, hot water and cooking at home. So, we encourage you to check your propane levels more frequently in the coming weeks. If your gauge reaches between 30-35% be sure to give us a call to prevent any potential service interruption and assist in keeping you safe and comfortable.
Paraco Operations and Employees
Paraco Gas is still working at full capacity, but we are monitoring the situation closely as it evolves in each of the communities that we serve. We want to assure you of the precautionary measures we are taking to ensure everyone's safety.
Any Paraco employees who are able to serve our customers remotely will be working from home. We have also implemented even more rigorous health and safety measures for our drivers and technicians who work in several locations throughout each day. Our employees who visit multiple customer locations are wearing new gloves for each visit, and fully sanitizing their hands, vehicles and all equipment in between each visit – including the handling of any money. Paraco is also taking preventative measures to have our offices sanitized and increase office-cleaning frequency during this time.
Staying Safe and Healthy
We are following the CDC guidelines and recommended measures in order to avoid the contracting and spreading of the COVID19. Out of concern for our customers and employees, if you aren't feeling well and have a fever or flu-like symptoms we respectfully ask that you reschedule your service/sales appointment. We will be happy to work with you to reschedule a more suitable date at no charge.
Please remember to follow the recommended protocols to help minimize the spread of this virus. In addition to good personal hygiene habits, practicing other good health habits such as getting enough sleep, eating healthy foods, managing stress, exercise and drinking plenty of fluids will also help in this endeavor.
We are taking the potential threat of illness very seriously. Your safety truly is our highest priority, and we will keep you informed of any updates here at Paraco.
Our online portal is available for customers who wish to make payments, place delivery orders and view documents remotely. If you have any questions, please don't hesitate to call us toll-free at 800-647-4427 or send us an email at contactus@paracogas.com
---
FREQUENTLY ASKED QUESTIONS
1. Is Paraco currently making propane deliveries?
Yes, we are currently making deliveries to both our residential and business customers. Propane is an important part of the daily lives of the American people; the Government has deemed us an essential business. We will continue to safely and responsibly fuel customers every day.
2. Are propane deliveries being delayed because of the coronavirus outbreak?
We are not currently experiencing any delays with our propane deliveries.
3. How can I tell if I am using more Propane now that I am home more often?
As people are spending more time at home to help stop the spread of the Coronavirus, you may experience an increase in usage. You might be cooking more, using more hot water and turning the heat up for longer periods. As a reminder, familiarize yourself with your delivery status: Will Call or Automatic 
To keep an eye on the Tank Gauge because of the unexpected increase. If the gauge reaches 30% – 35% then it is time to give us a call at 800.647.4427.
4. How can I pay my bill?
Please use our online portal My Account pay your bill and even place a delivery. You can also reach us by calling 800.647.4427, or mail payment to our secure lockbox:
Paraco Gas Corporation
P.O. Box 412227
Boston, MA 02241-2227
5. Can I pay my driver directly at the time my propane is delivered?
To help minimize the spread of the coronavirus, we are trying to eliminate the need for drivers to interact with customers directly. We offer customers a variety of payment options to best suit your needs. If you are in need of further assistance, please call us to discuss, we are happy to help.
6. Are Paraco's local offices open to the public for Walk-In Customers?
We are closely following CDC protocols to ensure customer and employee safety during the COVID-19 health crisis; we have suspended walk-in traffic for all of our locations. We encourage you to visit our website or call our customer experience agents.
7. Can I still exchange or fill my BBQ cylinder?
Yes, we encourage you to find a local retailer or refill center and enjoy your Propane fueled BBQ grill. We have temporarily suspended walk-in traffic, so you will not be able to visit one of our 27 locations for a BBQ cylinder exchange or refill. However, please call your closest Paraco office and they can direct you to the nearest retailer.
8. Should I be concerned about a propane shortage?
No, we do not anticipate a propane shortage. There is an ample supply of propane in the United States to serve the demands of all propane-fueled homes and businesses.
9. How will Paraco respond to the continually changing circumstances?
Our operations team, along with our COVID-19 task force, are experienced with adapting to changing conditions, and we are developing contingency plans to address any potential disruptions. We will continue to comply with all government regulations and guidelines that relate to the containment of the Coronavirus.