Even almost 2 years into the pandemic, there is still a lot of information about COVID-19 swirling around, making it difficult to distinguish fact from myth.
Not only that but fully understandable fatigue can make it hard to remain vigilant and follow protocols.
Paraco fully believes that the vaccine is our best defense against this devastating virus and its effects on us individually and as a community.
We encourage our employees to get vaccinated, even incentivizing vaccination by offering lotteries with large cash prizes. It's extremely important to us that our employees and the customers we serve be protected.
Now, everyone in the U.S. over the age of 5 is eligible for the vaccine, cases have gone down. But continued vigilance is important, which is why the booster is so important.
Currently, anyone over the age of 18 who received their completed COVID vaccine more than 6 months ago is eligible for the booster shot. This means those who have received both rounds of the Pfizer or Moderna shots, or the single Johnson and Johnson shot.
We understand the apprehension some may have. It's understandable to have questions about the vaccine, so we've compiled some helpful info on COVID and the vaccines overall, including safety reminders, as well as shedding light on some common myths that may make people hesitant to get the vaccine.
---
MYTH:  Researchers rushed the development of the COVID-19 vaccine so its effectiveness and safety cannot be trusted.
FACT:  The technology behind vaccines has been around for more than a decade. The pandemic pushed scientists to put it into action.  While federal funding helped accelerate the process, that doesn't mean any steps were skipped. Like with any other vaccine, the Covid-19 vaccines were tested in clinical trials that enrolled tens of thousands of people to make sure they meet safety standards and effectively protect people.
Increased collaboration, the use of new technology, and more funding meant that vaccine developers could work quickly during this pandemic. Drug companies had support from the federal government so they were able to start producing the vaccine while the clinical trials were going on, meaning we didn't have to wait for the trial results and then wait months or years for the vaccine to be manufactured.
Some of the reasons why the COVID-19 vaccines could be developed so quickly:
The vaccine developers didn't skip any testing steps but conducted some of the steps on an overlapping schedule to gather data faster.
Vaccine projects had plenty of resources, as governments invested in research and/or paid for vaccines in advance.
Some types of COVID-19 vaccines were created using messenger RNA (mRNA), which allows a faster approach than the traditional way that vaccines are made.
Social media helped companies find and engage study volunteers, and many were willing to help with COVID-19 vaccine research.
Because COVID-19 is so contagious and widespread, it did not take long to see if the vaccine worked for the study volunteers who were vaccinated.
Companies began making vaccines early in the process – even before FDA authorization – so some supplies were ready when authorization occurred.
We all need to step up to beat COVID-19. We ask you to join us in protecting yourself, your family, your friends, your community, and our customers by getting vaccinated.
---
Myth #2: The COVID-19 vaccine can affect women's fertility.
FACT:  There is zero evidence to support that the COVID-19 vaccine can cause infertility. The truth is that the COVID-19 vaccine encourages the body to create copies of the spike protein found on the coronavirus's surface. This "teaches" the body's immune system to fight the virus that has that specific spike protein on it.
Confusion arose when a false report surfaced on social media, saying that the spike protein on this coronavirus was the same as another spike protein called syncitin-1 that is involved in the growth and attachment of the placenta during pregnancy.
The false report said that getting the COVID-19 vaccine would cause a woman's body to fight this different spike protein and affect her fertility. However, the two spike proteins are completely different and distinct, and getting the Covid-19 vaccine will not affect the fertility of women who are seeking to become pregnant, including through in vitro fertilization methods.
During the Pfizer vaccine tests, 23 women volunteers involved in the study became pregnant, and the only one who suffered a pregnancy loss had not received the actual vaccine, but a placebo.
Getting COVID-19, on the other hand, can have a potentially serious impact on pregnancy and the mother's health. Pregnant women are at an increased risk for severe illness from COVID-19 and might be at increased risk for adverse outcomes, like preterm birth.
---
We strongly urge those who have yet to be vaccinated to protect themselves, their families, and their communities and to roll up their sleeves.
Stopping this pandemic requires using all the tools we have available – wearing masks, staying at least 6 feet apart from people who don't live with you, avoiding crowds and poorly ventilated spaces, washing your hands frequently, and getting vaccinated.
We all play a part in this effort, and you are key. Please sign up to get your COVID-19 vaccination today!
Being informed about COVID-19 vaccines is an important step to help us stop this pandemic. For those of you who may have questions about the vaccine or know someone who does, the CDC addresses some of the common Covid-19 myths and rumors that have developed.
Please take a moment to read through this page and share this information with anyone who might benefit from viewing it.  If there are still questions, additional information can be found on the Ad Council-Covid Collaborative site.
We can all do our part in preventing the spread of COVID-19. Watch as Paraco, CEO, Joseph Armentano gets his COVID-19 vaccine.
---
Please take a moment to read this public service message on face coverings!
As important as the vaccine is, we still have to remember the protection also offered by simple precautions like wearing face coverings, which are proven to be effective at preventing the spread of viruses. (There's a reason surgeons wear them during operations!)
We all know that wearing a face-covering in public helps prevent the spread of COVID-19, but only if it's worn properly. To be effective, the face-covering must cover both your nose and your mouth. Face coverings provide an extra layer to help prevent respiratory droplets from traveling in the air and onto other people.
It is critical that your face covering covers your nose and mouth and that you keep the covering on your face the entire time you're in public.  Please see below for some examples of how not to wear your face-covering!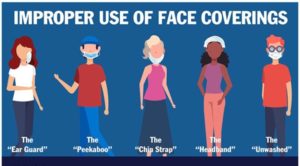 ---
BE SMART STAY 6 FEET APART
While vaccines offer us a great measure of protection, it's still important to observe social distancing rules when out in public or around those who haven't received the vaccine yet. We understand that it is human nature to want to connect and interact with others and that it is just as easy to become "fatigued" by the constant reporting in the media, but it is extremely important that we continue to follow the established protocols in order to protect ourselves and those around us.
If you are not feeling well, stay home!
Practice social distancing and maintain a minimum distance of six (6) feet from others in public whenever possible.
Wear a face-covering whenever social distancing is difficult to maintain (i.e., grocery stores, pharmacies, etc.).
Clean hands frequently with soap and water for at least 20 seconds.
Cover your cough and/or sneeze with a tissue, then throw the tissue in the trash and wash your hands.  If you don't have a tissue, cough and/or sneeze into the crook of your elbow.
Remember to wipe down high touch areas before and after each use!
We'd also like to take a moment to remind everyone to consider getting a flu shot this year.  Even if you have historically not received one, this year the CDC has issued a warning that "another respiratory illness [such as the flu] on top of the ongoing COVID-19 pandemic could overburden the health care system, strain testing capacity and increase the risk of catching both diseases at once".  Please review the CDC website for more information.
---
REMEMBER THE 3W'S
As we continue to communicate on COVID-related protocol, we need to stress that while "COVID fatigue" and complacency are honest responses, we MUST continue to stay vigilant because the conditions have extended into the fall during this ongoing public health crisis. It is incumbent upon all of us to do our part to keep ourselves and our families safe. 
Our strict adherence to the rules has helped Paraco minimize the number of COVID cases. Please continue to wear a face-covering whenever you are in a public setting and cannot maintain a 6-foot distance. Maintaining social distancing whenever and wherever it is necessary is critical. Continue to obey all the CDC rules and regulations posted in local businesses and public spaces. 
Remember the 3W's (Wear a mask, Watch your distance, and Wash your hands) to reduce the spread of infection.
---
PROPANE SAFETY
The health and safety of the Paraco family – including our customers and employees – is always our top priority.
Your Propane Usage
As more people are taking precautionary measures against the spread of the COVID-19 each day, you might be spending more time at home – working from home, eating out less and in general, spending less time in places where crowds exist.
This may also mean an increase in your use of propane for heating, hot water, and cooking at home. So, we encourage you to check your propane levels more frequently in the coming weeks. If your gauge reaches between 30-35% be sure to give us a call to prevent any potential service interruption and assist in keeping you safe and comfortable.
Paraco Operations and Employees
Paraco Gas is working at full capacity, but we are monitoring the situation closely as it evolves in each of the communities that we serve. We want to assure you of the precautionary measures we are taking to ensure everyone's safety.
Any Paraco employees who are able to serve our customers remotely will be working from home. We have also kept rigorous health and safety measures for our drivers and technicians who work in several locations throughout each day.
Our employees who visit multiple customer locations are wearing new gloves for each visit, and fully sanitizing their hands, vehicles, and all equipment in between each visit – including the handling of any money. Paraco is also taking preventative measures to have our offices sanitized and increase office-cleaning frequency during this time.
Staying Safe and Healthy
We are following the CDC guidelines and recommended measures in order to avoid the contracting and spreading of the COVID-19. Out of concern for our customers and employees, if you aren't feeling well and have a fever or flu-like symptoms we respectfully ask that you reschedule your service/sales appointment. We will be happy to work with you to reschedule a more suitable date at no charge.
Please remember to follow the recommended protocols to help minimize the spread of this virus. In addition to good personal hygiene habits, practicing other good health habits such as getting enough sleep, eating healthy foods, managing stress, exercise and drinking plenty of fluids will also help in this endeavor.
We are taking the potential threat of illness very seriously. Your safety truly is our highest priority, and we will keep you informed of any updates here at Paraco.
Our online portal is available for customers who wish to make payments, place delivery orders and view documents remotely. If you have any questions, please don't hesitate to call us toll-free at 800-647-4427 or send us an email at contactus@paracogas.com
---
FREQUENTLY ASKED QUESTIONS
1. How can I tell if I am using more Propane now that I am home more often?
As people are spending more time at home to help stop the spread of the Coronavirus, you may experience an increase in usage. You might be cooking more, using more hot water and turning the heat up for longer periods. As a reminder, familiarize yourself with your delivery status: Will Call or Automatic 
To keep an eye on the Tank Gauge because of the unexpected increase. If the gauge reaches 30% – 35% then it is time to give us a call at 800.647.4427.
2. How can I pay my bill?
Please use our online portal My Account pay your bill and even place a delivery. You can also reach us by calling 800.647.4427, or mail payment to our secure lockbox:
Paraco Gas Corporation
P.O. Box 412227
Boston, MA 02241-2227
3. Can I pay my driver directly at the time my propane is delivered?
To help minimize the spread of the coronavirus, we are trying to eliminate the need for drivers to interact with customers directly. We offer customers a variety of payment options to best suit your needs. If you are in need of further assistance, please call us to discuss, we are happy to help.
4. Can I still exchange or fill my BBQ cylinder?
Yes, we encourage you to find a local retailer or refill center and enjoy your Propane fueled BBQ grill. Please call your closest Paraco office and they can direct you to the nearest retailer. You also have the option to visit one of our 27 locations for a BBQ cylinder exchange or refill, where we require masks and the following of CDC-recommended safety protocol.
5. How will Paraco respond to the continually changing circumstances?
Our operations team, along with our COVID-19 task force, are experienced with adapting to changing conditions, and we are developing contingency plans to address any potential disruptions. We will continue to comply with all government regulations and guidelines that relate to the containment of the Coronavirus.
Paraco is committed to fueling your moments that matter, and nothing matters more than your safety. We hope this information proves useful to you, and that we can serve you and your families happily and healthily for years to come.