Paraco Continues its Support of Nonprofit Organizations
November 18, 2020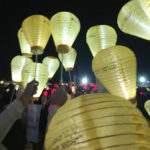 Light the Night – Leukemia and Lymphoma Society
On October 29th, Paraco joined "Team Margaret" in a live virtual event as a sponsor of the Leukemia & Lymphoma Society's Light the Night Walk Event in Long Beach, Long Island, in support of finding a cure for blood cancer and providing much-needed support for families touched by blood cancer. The Light the Night event was presented differently this year due to rain, but the fight continued with the virtual event! More than $3,000 was raised from the local chapter.
Greyston Foundation
In support of Greyston's PathMaking Programs, which addresses issues of poverty faced in our community and empowers individuals to pursue a career path that will help them find full-time employment, Paraco sponsored Greyston's Annual Event Fundraiser: Thanksgiving with acclaimed chef, public speaker, bestselling author, and newest Greyston Board Member, Jeff Henderson. Through a virtual cooking demonstration, Jeff prepared a savory Thanksgiving dish, and shared his southern-style homemade recipe for cornbread dressing, followed by a sweet Greyston brownie parfait for dessert!
While entertaining viewers, Jeff shared his life's journey that personifies Greyston's mission and PathMaking Program story.
March of Dimes
Paraco is proud to sponsor the March of Dimes 33rd Annual Real Estate Awards Breakfast virtual event on November 19th, honoring Benerofe Properties and the Benerofe brothers, Andrew, James, and Mitchell, with the prestigious Martin S. Berger Award for Lifetime Achievement! As a propane distributor to residential and commercial accounts, Paraco believes in building better communities for businesses and residents. The March of Dimes mission is to improve the health of mothers and babies and building a better future for them. Together, we are creating a happier and healthier society!
Diane DeVivo, Community Relations Manager