It's Amazing – 2 Incredible Employees Celebrated their 25th Anniversary with Paraco this April
April 29, 2019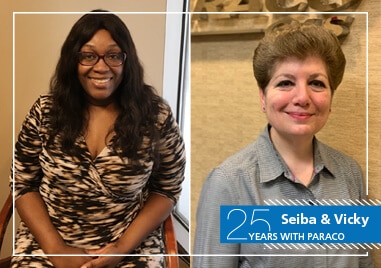 Vicky joined Paraco in April 1994, holding various positions throughout her tenure.  You can always count on Vicky to give you a smile and to bring to work a great attitude every day. Always dependable, Vicky is a true team player, willing to go the extra mile and help her fellow employees.  Presently, she works at Corporate's Reception Desk, Paraco's ambassador to our visitors; and also assists the Executive Department as Office Administrator.
Seiba also joined Paraco in April 1994 and has grown both personally and professionally with our company.  Year in and year out we could always depend on Seiba for great performance.  Seiba has been an integral part of the Paraco family while growing her own family during her time with Paraco. Seiba now holds a very important management position as Accounts Receivable Billing Manager.
With a heartfelt thank you for all these wonderful years of great service and dedication, please know how very happy we are to have Seiba & Vicky in our family.  Happy 25th Milestone!