Employee Spotlight – March 2020
March 16, 2020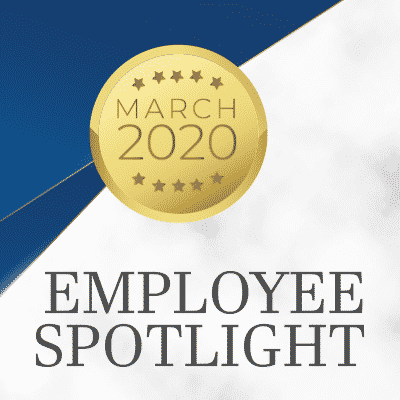 This March we proudly spotlight 2 exemplary employees who demonstrate what it means to be truly amazing.
Elizabeth Almonte |Our Backbone to Safety
Elizabeth Almonte is Paraco's Safety and Transportation Associate. A vital member of the Safety and Transportation Department headed by Dave Latourell, Director – Safety and Transportation, Liz is quite the multitasker. Her many roles and responsibilities include managing the administration and compliance requirements for the multiple agencies Paraco interacts with like DOT Driver files, OSHA Injury Reporting, and numerous DOT registrations. Additionally, Liz is actively involved in Paraco's Risk Management program supporting accident claims and reports, injury reporting, general liability claims reporting and investigations.
Our centralized resource for regulatory, compliance and safety functions that support Operations across the entire company, Liz plays a fundamental role in maintaining and organizing of company training, development of policies and procedures, and a plethora of safety and compliance initiatives that ensure Paraco keeps its motto Safety: Front and Center!
Dave remarks on Liz and her contributions to the team: "Liz has worked hard during her tenure in the Safety and Transportation Department to not only learn and evolve within the complicated and ever-changing environment of regulatory compliance, but she has also developed key relationships within the company to assist others to accomplish these objectives. She is a valuable team member to all of Paraco, and continues to grow and improve in her role."
James Laurey, North West Service Manager says of Liz "Elizabeth is an asset to my region by continuously supporting DQF (Driver Qualification Files), CETP (Certified Education Training Program) Truck EZ-Pass, Truck Fuel Card, and the list goes on. She always responds with a positive 'Can Do Attitude' to support the needs of my region. I always know when I ask Liz for support she will handle my request effectively and in a timely manner. Liz is a great asset to the Paraco Team."
Imhotep McLean |A Credit to Our Credit Department's Collection on Talent
Our Credit & Collections Department, tasked with providing effective credit and collections efforts, is integral to resolving account issues and keeping our organization financially healthy. Sometimes, this important and active department is overlooked as it most often works silently in the background.
This month we're breaking that silence with a limelight on Imhotep McLean, Collector. Imhotep possesses a broad realm of worthy professional attributes. With an honorable work ethic, he delivers a positive customer experience, providing clear and concise communications to help resolve account issues. Imhotep's manager Katie Johnson, Credit and Collections Supervisor, says Imhotep has proven to be dedicated to his role in many aspects. Katie shared with us that "He goes above and beyond the call of duty to ensure customers receive a quality experience; he works diligently and conscientiously not only accomplishing, but exceeding his goals; develops quality relationships with key accounts in his division; and ranks high on team camaraderie by assisting other collectors with difficult accounts."
Further, Imhotep has the reputation of being flexible and consistently willing to learn new tasks, always with a warm and friendly smile. An active listener, Imhotep successfully assists customers by identifying issues and finding effective solutions. A role model for any employee, Imhotep is reliable, dependable, dedicated and punctual. Important to his role, Imhotep is a skillful communicator in delicate situations -an essential quality for any successful collector. We can resolutely say that Imhotep is a Credit to the department with quite an amazing Collection of traits!