Employee Spotlight – August 2020
August 13, 2020
TWO GREAT EMPLOYEES MAKING US PROUD AND ALWAYS THERE FOR US
Mike McGuire | Making Us Proud
Mike McGuire, who came on board in January 2020, is a Bulk Delivery driver out of our Wurtsboro, NY reporting to LeAnn Nerone, North East Area, Logistics & Forecasting Manager. Mike merits special recognition with impressive contributions since joining our family.  A bit of a Renaissance man, Mike is a prime example of what Operations believes has made us successful during this calendar year, along with 3 key aspects of what needs to be accomplished on a larger scale in the coming months – a versatile, loyal and flexible workforce.
Coming to Paraco from LP Transport as a commercial bulk delivery driver, Mike is also able to jump in and assist with transport when needed; and he quickly caught on to the residential delivery side making him an asset on all delivery fronts.  But wait, there's more.  It was clearly evident that Mike takes pride in his work and where he works.  With a sincere concern for the Wurtsboro plant which needed some TLC, he planned on doing something about it, laying out viable suggestions on how it, and the surrounding grounds, could be improved. LeAnn recalls the conversation starting with a private joke that "the company on the sign on the building he works in has been bought and sold by Paraco since it was placed there".  And it was then that LeAnn learned Mike had also been a carpenter and still had many of the supplies needed to perform the repairs to the Wurtsboro building; all which has led to Mike's handling of the repair, landscaping and painting of the facility.
Demonstrating loyalty, initiative and versatility, just as we began the phase of COVID-19 with significant demand on BBQ cylinders, Mike was first in offering to follow the BBQ driver around in order to help complete more stops, and after just one week told LeAnn "I am ready for my BBQ truck now."  He, along with his son Charlie (who also came to us from LP Transport this March) "have been running BBQ out of Wurtsboro seven days a week since the beginning of the COVID influx, allowing us to manage the demand successfully", says LeAnn. Together, Mike and Charlie can support Transport, Bulk delivery and Cylinder delivery, in addition to plant maintenance.

We'd be remiss if we didn't share these before-and-after photos. The much-needed facelift made for a pretty darn spiffed up building!  Did anyone mention proactivity? Well, Mike has taken to painting the barriers and weeding around the tank – something not even mentioned in stuff to get done this week. And just recently, a team member found Mike cleaning up around the tank and "making us proud" … so well said.
A huge "Thank You Mike" for all that you do, and for truly making us proud.
Paul Komorowski | Always There, No Questions Asked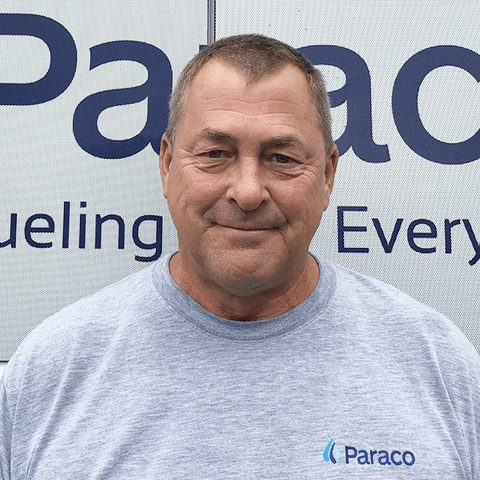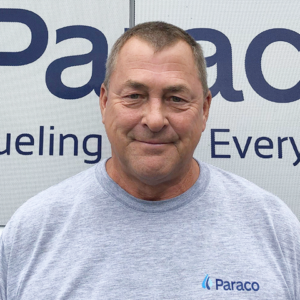 Paul Komorowski, Service Supervisor, works out of our Shirley, NY facility and reports to Jimmy Leach, Long Island Service Director.  Wearing several big hats, Paul's main responsibilities surround tech training, commercial service, and as Jimmy puts it, "serving as my back up and right hand man".
Employees across the board quickly and easily share that "Paul is a great guy".  And the top three reasons on everyone's "because" list include how Paul is extremely customer oriented, putting a high priority on customer satisfaction; how he does everything possible to put Paraco first; and the confidence that anything placed on Paul's lap will be handled in the most efficient, thoughtful and productive manner.
Always with a positive attitude and smile on his face, Paul walks and talks "the customer is a top priority".  Always going out of his way to help customers and team members alike, Paul is known for consistently being accessible to answer any tech questions no matter what time of day, even meeting a tech or customer at a job site when needed.  Adhering to Paraco's safety initiatives and out of concern for patrons and fellow employees, Paul always ensures his techs have the equipment to do their jobs safely, encouraging his techs to reach out to him for direction when unsure of something, and driving safety consciousness.
Providing mentorship, Paul doesn't just delegate.  Extremely knowledgeable of the propane industry, he is a role model. A simultaneous leader and helper, Paul is receptive to rolling up his sleeves and "getting his hands dirty", while eagerly teaching his team how to make repairs or install appliances.  He works long, hard hours and is attentive to his team's and customers' needs.
Attesting to Paul's hallmark features, Jimmy adds, "He is liked by everyone, employees and customers alike, and is ALWAYS there when you need him. I know I can call on Paul in any situation or any time I need help and feel confident he will be there to get the job done. Paraco and LI service are lucky to have Paul on our team".