Community Outreach – September 2021
October 20, 2021
Riverbrook Regional YMCA: Rock at the Y, Wilton, CT
Music fans of the Grateful Dead gathered for an outdoor concert and delicious food trucks while supporting a good cause! Featuring the band Terrapin, playing an authentic mix of Grateful Dead original tunes, proceeds from ticket sales and sponsorships will benefit the Riverbrook Regional YMCA, making life-changing experiences accessible to the Wilton, Norwalk & Redding communities.
Westport Rotary Club: 10th Annual LobsterFest, Westport, CT
Hundreds of lobster lovers gathered to celebrate LobsterFest at Compo Beach in Westport. It was a beautiful, warm, sunny afternoon for sponsors and guests to spend on the beach participating in this signature community charity fundraiser! Highlights of the event included children's activities, such as a magician, face painting, and glitter tattoos. One of the main attractions of the event was Hot Rubber Monkey Band, which Paraco sponsored. Funds earned from ticket sales and sponsorships will enable the Westport Rotary Club to award over 39 Charitable Giving Grants to local nonprofits and support impactful humanitarian projects worldwide.
Uxbridge Firefighters Association, Uxbridge, MA
The Uxbridge firefighters continue their mission to save lives! With contributions from their annual fundraiser, the firefighters can continue to receive special training to perform life-saving duties and needed supplies from which tax dollars are not available.
Jersey Cares, Livingston, NJ
Paraco employees from our South Plainfield branch donated their time volunteering for the Jersey Cares School Supply Drive. Ensuring that each child attends their first day of school with essential educational tools, Paraco's own spent an afternoon sorting through donations and stuffing backpacks with needed supplies such as notebooks and calculators. Jersey Cares is a leader in volunteerism in New Jersey, creating and managing efficient, impactful projects that address critical community-identified needs.
South Plainfield Labor Day Parade, South Plainfield, NJ
Paraco participated in the 62nd South Plainfield annual parade and the festivities at Veteran's Field for New Jersey's oldest and largest Labor Day Parade! Fireworks launched in the night sky at Spring Lake in celebration of this year's theme, "South Plainfield's Heroes, recognizing all those who give back to the community, including emergency responders, frontline workers, and veterans. A representative from each military service branch led this year's parade – The United States Army, Navy, Air Force, and Marine Corps.
Ashland Fire Department, Windham, NY
Paraco continues its support of the Ashland Fire Department by sponsoring their annual Fireman's Golf Tournament to benefit The Westchester Medical Center Burn Unit. With the help of donors like Paraco, the Ashland Fire Department has sent over $100,000 to the burn unit over the past 25 years!
Grace Care Food Pantry, Medford, NY
It's back-to-school time, and through the community outreach efforts of Grace Church members and donor gifts, they had the opportunity to provide essential items needed to start school, like backpacks and school supplies for over 700 children in need across the Upstate. Paraco wishes all the children in the community a fun, safe, and productive new school year!
Greyston 1st Annual Golf Tournament, Yonkers, NY
In continued support of Greyston's PathMaking Programs to address issues of poverty faced in our community and empowering individuals to pursue a career path that will help them find full-time employment, Paraco is honored to Sponsor Greyston's 1st Annual Golf Outing at Rockrimmon Country Club in Stamford, CT. Each year, Greyston serves approximately 5,400 individuals from all racial, ethnic, and religious backgrounds, primarily in the Southwest Yonkers community.
DUE TO DELTA VARIANT, GOLF OUTING POSTPONED TO MAY, 2022
Queens Centers for Progress, Jamaica, NY
In partnership with one of our largest commercial accounts, Home Depot, Paraco was all game to Sponsor the Queens Centers for Progress "Viva Las Vegas Fundraising Event. High rollers met for a virtual night of games, entertainment, and fun! Paraco recognizes this not-for-profit organization for its extraordinary work promoting the independence of individuals with developmental disabilities.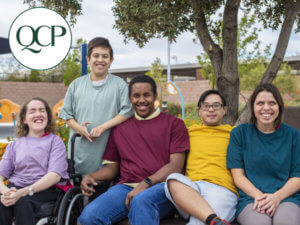 The Arc Mid-Hudson Foundation, Kingston, NY
Paraco acknowledges children with developmental disabilities and supports Arc's mission to help them achieve and experience the highest quality of life. As a continued donor of Arc, Paraco's sign was proudly displayed on the Wiltwych Golf Course for this year's Fall Golf Classic, recognizing the Autism Foundation.
---
Have an organization you would like Paraco to partner with? Please click the button below to fill out the Request Form for consideration. Be sure to bookmark for any future requests.
Diane DeVivo, Community Relations Manager