American Cancer Society – Making Strides Against Breast Cancer – October 2020
November 9, 2020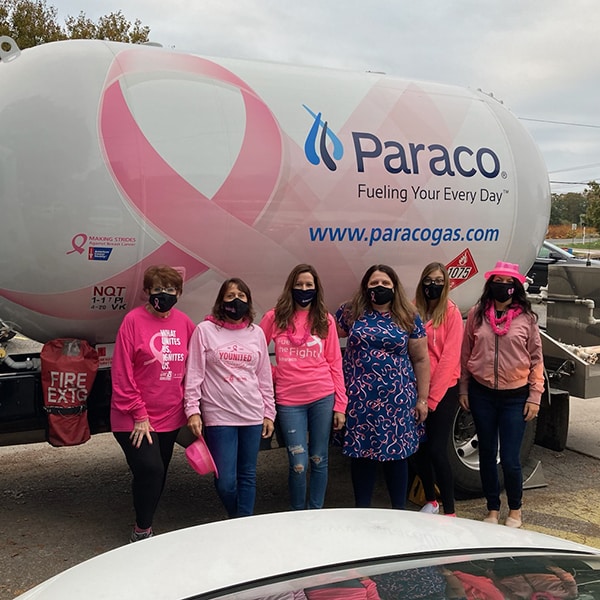 Recognizing that October is breast cancer awareness month, Paraco continued its support of breast cancer initiatives and research by sponsoring the American Cancer Society's 2020 Making Strides Against Breast Cancer. This year's events looked a bit different with Car Parades arranged as an alternative to traditional Walks due to COVID-19 social distancing protocols.
As a multi-state sponsor, Paraco had a presence at five locations, including Manhattanville College in Purchase, NY; Sherwood Island Connector in Westport, CT; Woodbury Common Premium Outlets in Central Valley, NY; Riverhead, NY; and at Jones Beach in Wantagh, NY. Cars were decorated in pink ribbon and signage, and as they proceeded along the routes; honking their horns as many survivors and caregivers, kids, dogs, and grandmas and grandpas came out to cheer on the cars and wave them on! At Paraco's Riverhead location, the car parade was led by a Paraco truck, which turned into a decorated float to honor one of the survivors.
Paraco came up with some creative ways to further attract donations hosting bake sales, holding $1 Bagel Fridays, selling pink and black face masks hand-made by one of our own very talented employees, and displaying "Change 4 Change" donation jars. Funds raised on Long Island exceeded $5,100.00, and in Paraco's Northeast region, $1,550.00 was also raised in donations. And on top of our annual sponsorship, Paraco committed an additional $500 of its October Gallon Goal success toward breast cancer donations.
To date, the American Cancer Society's Making Strides for Breast Cancer campaign raised an impressive $2.5 million! Paraco proudly supports such a worthy cause and continues to join the fight to end breast cancer!