4th Annual Pat Armentano Legacy Award
July 27, 2021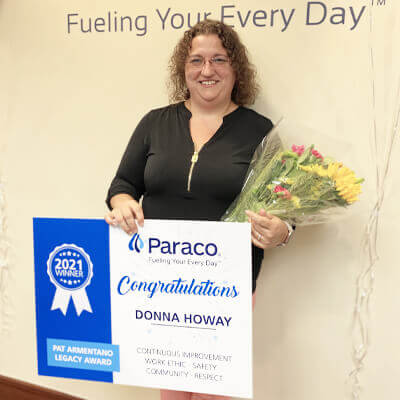 The Pat Armentano Legacy Award (Award) is a distinctive honor celebrating one employee each year – an employee who has achieved a legacy of service, loyalty, commitment and highly-regarded character traits that exceed daily expectations both on and off the job. This individual best personifies the core values and culture fostered by Pat Armentano, Paraco's founder.
Our 4th year's nominee does just that, showing sincere respect and concern for others while also being well-respected by others. This individual consistently exhibits confidence and leadership; seeks to learn and do more; willingly takes on challenges to move beyond the comfort zone; and possesses the utmost integrity and excellence in both the work and personal social ethic.
We're very excited to announce that Donna Howay, Senior Manager – Procurement & Special Projects, is the Award's 2021 recipient! Donna has an indisputably outstanding track record and is the epitome of an exceptional person. Accomplished within the realm of excellence in service, Donna can always be counted on to go above and beyond the call of duty. Sincerely caring and thoughtful, it is in Donna's nature to provide mentorship, act dependably and loyally, and immerse herself in her job and the community.
The time of Covid-19 has been markedly challenging and particularly noteworthy. Donna's dedication to keeping our employees safe during the epidemic had her working countless hours to procure the proper PPE. Among all sorts of roadblocks, Donna was able to source supplies that were nearly impossible to find.
Donna has received numerous accolades from peers, some of which include praise for her genuineness; leading with integrity and empathy; excellence in mentorship; instrumental and effective leadership; and an unparalleled work ethic.
A selfless leader, Donna displays nothing short of commitment and excellence. Art Ravo, Vice President – Supply Chain says of Donna, "Because of her strong communications and follow-through abilities, senior & field management always knew where and when needed supplies would arrive". Art further added, "Donna always makes herself available. She is the Go-To person without fail. And on a more personal level, it has always been a pleasure to work with Donna."
Donna, with this Award we humbly thank and congratulate you for all you do, and all you are!