3rd Annual Pat Armentano Legacy Award
July 23, 2020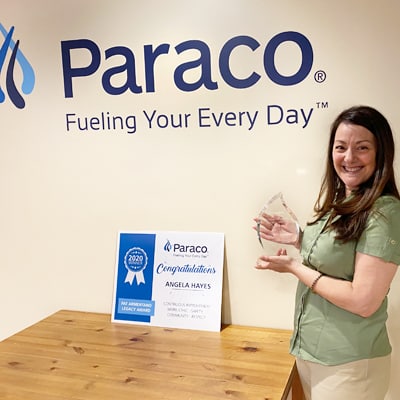 The Pat Armentano Legacy Award (Award) is a prestigious, annual recognition honoring an employee who best personifies the core values and culture fostered by Paraco's founder, Pat Armentano.  Recipients of this Award consistently demonstrate and exemplify the outstanding attributes of treating others with respect; putting safety above profit; possess a strong work ethic with a focus on self-improvement; and giving back to the communities in which we live and serve.
It is no easy feat to be nominated for this Award, and Paraco is proud to announce Angela Hayes, Director of Customer Experience & Inside Sales, as the Award's third year recipient.  Angela has an unequivocal track record of going above and beyond the call of duty; supporting Paraco's Safety Front-and-Center initiatives; dependability; mentorship; involvement in the community; and accomplishments under the general scope of excellence in service.
In attestation to the fact that Angela is most deserving of this esteemed Award we share some supporting statements provided by her many nominators.
"With the ability to bring fun and laughter into any situation, Angela is able to balance that with the ability to get down and dirty to get things done."
"Angela is always willing to take on more and push herself and her teams to improve; all in the name of our customers and our company. Her push to switch our focus from providing 'customer service' to 'customer experience' shows her desire to go above and beyond, to do more, and to have a profound impact on both the customer and our people."
Never satisfied with the "status quo" Angela consistently encourages her team to find new ways of improving processes and the department.
Angela leads by example with an "I've got your back" attitude, and a focus on fostering employee growth.
Always available for support and guidance, Angela has developed a solid rapport with her staff, is eager to communicate clearly, and provide problem solving on a daily basis.
Angela personifies excellence in mentorship, encouraging her team to strive for, enjoy and celebrate success. She rolls up her sleeves and works alongside her team, advancing high performance standards and career success opportunities.
Angela consistently desires to serve not only her own team, but to assist any department in need of support, for our employees, customers and organization.
Encouraging her employees to pursue community involvement and charitable events, Angela herself participates in various community assistance programs and events. She regularly attends breast cancer walks; supports Dress for Success, an organization whose goal is to empower women to achieve economic independence and thrive in work and life; along with other private charity work such as SPCA donations, clothing drives and more.
Having held several positions of increased importance throughout her 10 years at Paraco; Angela's formidable traits remain unprecedented. Displaying nothing short of excellence as an individual, leader and teammate, she is selfless as a leader. With a clear vision, genuine integrity, honesty and humility, she provides nurturing guidance; helping others to achieve their goals while fostering an inclusive, fun, satisfying and results-oriented environment.
With this Award, we humbly thank and congratulate you, Angela.