If you're like us, our kitchen and backyard are the two spaces our families like to gather. The versatile nature and convenience of home propane are nearly limitless and don't just pertain to the inside of your home.
Propane can transform any of your outdoor spaces. It can power fire pits, patio heaters, flame lighting, full, stylish outdoor kitchens, patio heaters, fire pits, flame lighting, and more. That means you can keep the fun going well into the night while supporting energy efficiency, a green environment, and your wallet. Check out all the ways propane can bring the family party outside!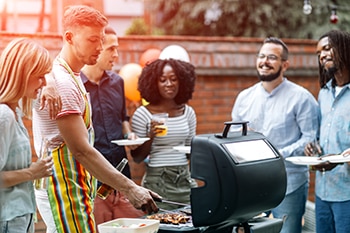 Grills & BBQs  
Outdoor grilling with propane is more straightforward, safe, and inexpensive than charcoal grills. Consumers can choose from a variety of portable or permanent installation options.
And just like indoor gas ranges, propane grills offer instant on-off convenience, clean, even heat, and precision temperature control for a perfectly done meal.
According to the EPA, they also offer the added benefit of being 105 times more environmentally friendly than charcoal grills.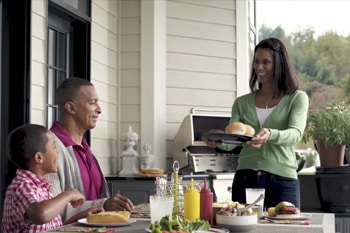 Outdoor Kitchens  
A full outdoor kitchen offers a fun, entertaining outdoor cooking experience for your friends and family, and is powered by your main propane power line. Outdoor kitchens are becoming a "go-to" culinary resource, and propane fuels an array of luxury outdoor appliances easily concealed by landscaping while supporting reduced emissions.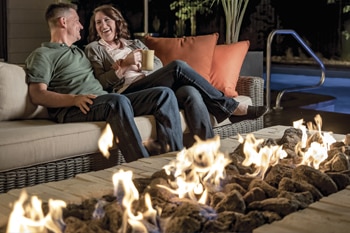 Fireplaces & Firepits 
A real flame, providing warmth and appeal, is yours with just a flip of a switch. When you're done you simply shut it off, without messy ash and soot to have to clean up.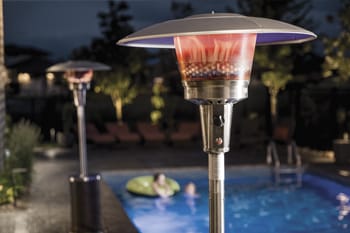 Patio Heaters 
Portable and stationary patio heaters are available in many sizes and can add comfort and ambiance on even the chilliest nights. Many units can heat a radius of up to 20 feet and raise the outdoor temperature by as much as 30 degrees in the immediate area.
Flame Lighting 
True Flame lighting is an energy efficient, low-emission alternative to electricity. Flame lighting bestows a beautiful ambiance, is totally odorless, and offers safety and security by being unaffected by power outages.
Pool and Spa Heaters
Extend pool season all year round. Propane heaters warm your spa or pool faster and more efficiently than electric heaters. Propane heats water up to twice as fast as electricity. Propane-powered spa or hot tub heaters range from 5,000 BTU per hour. For a large pool, they are up to 400,000 BTU per hour or more.
BTU (or BTU), which stands for "British thermal unit," is a traditional unit of heat. It means the amount of heat required to raise the temperature of one pound of water by one degree Fahrenheit.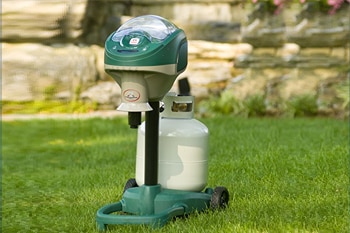 Insect Control 
Propane insect traps use heat and an attractant created by propane to lure in and kill mosquitoes and other biting bugs. These traps can provide up to one acre of coverage, operate on portable propane tanks, and are odorless and silent.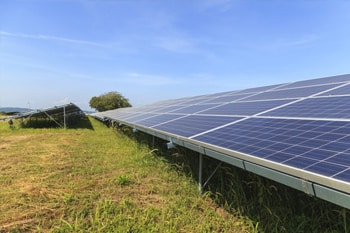 Back-Up Energy Source  
Many people don't know that propane can also be coupled with renewable energy systems. For example, solar water heating can be coupled with a propane tank, tankless water heater, or boiler for pool and spa water heating. It is also used in conjunction with electric power. Solar photo-voltaic systems can provide electricity for outdoor room applications, and a propane generator can supplement when battery backup isn't sufficient.
As you can see, propane offers many attractive and versatile options for outdoor applications at a fraction of the cost of other energy sources. These appliances can also be integrated easily into any existing propane energy system in your home.